010: Nick Alexander's Favorite Ten Parody Songs
Podcast: Play in new window | Download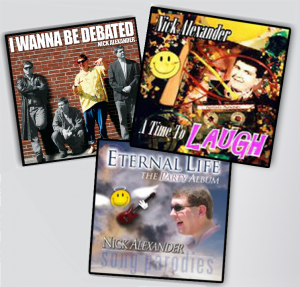 If you want to subscribe to the Nick Alexander Podcast, click here.
The purpose of episode 10 is to count down my top ten personal favorite parody songs I have written thus far.
When I began writing parody songs, I had done so as a lark, as a method to improve my own songwriting skills.  My biggest surprise was to see how widely accepted this became, and many embraced my personae as "The Catholic Weird Al."  This episode goes back memory lane to discover my ten favorite songs from the three albums and side projects I had done.
My Top Ten Parody Songs cover…
A twisted rock classic expressing my love for Gregorian Chant
A punk rocker's first experience participating in a liturgy
A disco maven exhorting one to convert to Catholicism
An anthem expressing one's trepidations of sharing the faith
A song that covers two-thousand years of church history
A toe-tapper expressing the meaning behind those car fish decals
An infectious dance classic about one of the most prominent creeds.
The last funny thing you should hear before Lent begins.
A singalong song exhorting chastity and chivalry before marriage
The many personal devotions that exist for growing one's holy walk.
The purpose of this episode is also to introduce to new listeners as to what my parody skills entail, and what they can do for you, whether as a teacher, a youth group leader, a parent, or a fan of parody songs.  But it is also to help promote a new resource that I have crafted, which is a free e-Book containing the list of all my parody songs; it also contains helps such as dance moves, skit ideas, and a click-thru link-filled page with the lyrics of "We Want to Stand United", an extremely detailed song covering 2,000 years of church history.  The most important help are my indexes in the back, which may help you discover parodies by artist, by decade, or by topic.
If you sign up for the free eBook, you will also get placed on my mailing list.  The purpose of the mailing list is so that I can use it to keep you informed of my happenings, whether in regards to my podcasts, my articles, or my latest news. When I come up with a brand new parody song, you will be the first to hear it.  In fact, I have a brand new parody song that is nearing completion right now, and I will record a raw draft and provide a download quite soon. The new parody song will be twisting Katy Perry's hit song "Roar."
If you have ideas about future podcast episodes, feel free to share them here.
If you want to subscribe to the Nick Alexander Podcast, click here.
Do you have a favorite parody of mine?  Share it below!