Worship Leader
Nick Alexander has been leading music in churches, youth groups, Eucharistic adoration, and charismatic prayer groups for over twenty years. His talents include: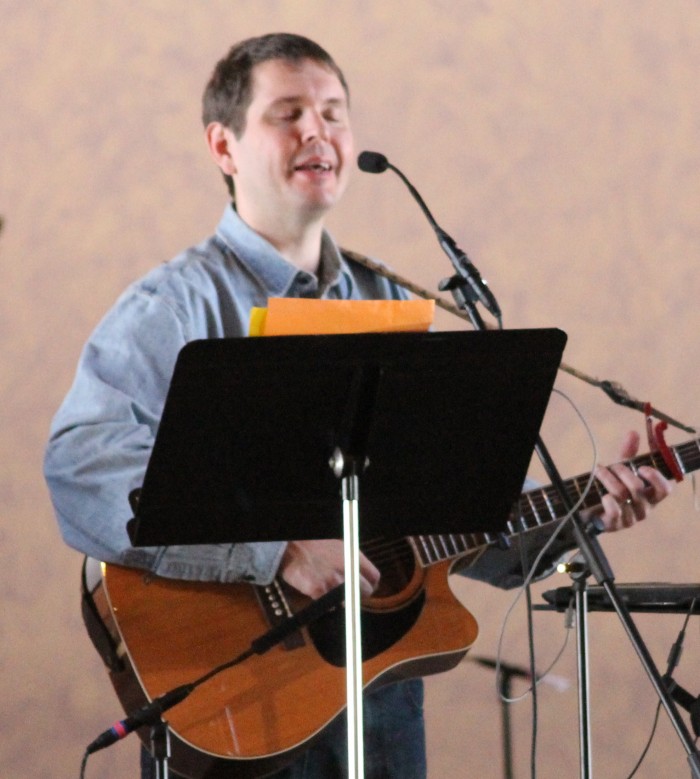 1. Leading the music for conferences or rallies:
Nick will organize musicians and form a choir/band to provide all of your musicial needs for your next event, he understands how to move a crowd from fun, energetic openers, to powerful, singable anthems that express a deep community devotion with the Lord. Nick understands the nuances of key changes, medleying, proper teaching of new songs, and the tremendous gift of the hymns of our heritage.
2. Liturgical celebrations:
Nick will select songs that properly balance the needs of the congregation, the music at their disposal, and the selected readings AND antiphons of the liturgical calendar. Nick has been known to compose a song or two, that correspond to the Communion Antiphon texts. Nick is also very familiar with the songs from all the major publishers, as well as chants and traditional hymns, sometimes combining songs from all genres into a single cohesive experience.
3. Eucharistic Adoration Music:
Nick understands the unique privilege to worship before our Lord in the special Presence of the Blessed Sacrament. He has one of the strongest collections of Eucharistic-centered worship songs that encompass many genres, and is proficient in stringing the songs together as a unified whole, so that the congregation could follow along easily. He also knows the power of silence in worship.
4. Charismatic and Youth Venues:
Nick has been involved with youth/young adult ministry for decades, as well as having served as a liason for the National Service Committee Counsel for three years. He understands the balance that is needed to be both open to the Holy Spirit's leadings, but also grounded in the faith of our Fathers. Nick is well read, and understands the Charismatic Renewal from the eyes of the Church.
5. Music, Music, Music!
Nick has always been known to collect as many folios and songbooks and hymnals that he can, from as many sources and publishers that exist. Nick depends upon the great variety of worship music out there, including the majority of songs in the CCLI Top 500 List, as well as a wide variety of Catholic contemporary artists, and has organized his songs in a manner so he could be as flexible as he needs to be. Assume Nick knows a particular song; in the unlikely event that he doesn't, he would learn it quickly and sing it enthusiastically.
Here is a video link to a worship performance he did for Catholic TV fundraiser…